Any affiliate links in this post will be clearly marked with a * and if you click a link and buy a product, then I may receive a small commission at no extra cost to you. Thank you for supporting my blog!
Have your kids seen the second Trolls film – Trolls World Tour – yet? We rented it on Amazon for a couple of days near the start of lockdown, and the twigs are OBSESSED! Their 5th birthday is coming up so of course we have got them some Trolls goodies. So I just thought I'd share a little round-up of some of the best Trolls World Tour gift ideas for kids that are out there at the moment. (Don't worry – we did NOT buy all of these for the twiglets haha!!!)
1. DJ Trollex Party Mixer
We've ordered this for H and I am SO EXCITED to see his face when he opens it! He's absolutely obsessed with the songs from Trolls World Tour, especially with the techno ones and King Trollex. So I know he is going to LOVE this! 🙂
* affiliate link
2. Trolls World Tour Lego
Lego is such a great, failsafe gift idea for kids, isn't it? There are a few different Trolls World Tour Lego sets to choose from 🙂
* affiliate links
3. Paint Your Own Figures
These paint-your-own Trolls World Tour figures from The Works are so cute! A great idea to keep little Trolls fans busy 🙂
4. Trolls World Tour Scrapbook Kit
This Trolls World Tour scrapbook kit from Crayola looks amazing!
* affiliate link
5. Trolls World Tour Plush Toys
All kids love cuddly toys, right? There are a huge selection of Trolls World Tour plush toys available 🙂
* affiliate links
6. Trolls World Tour Ukeleles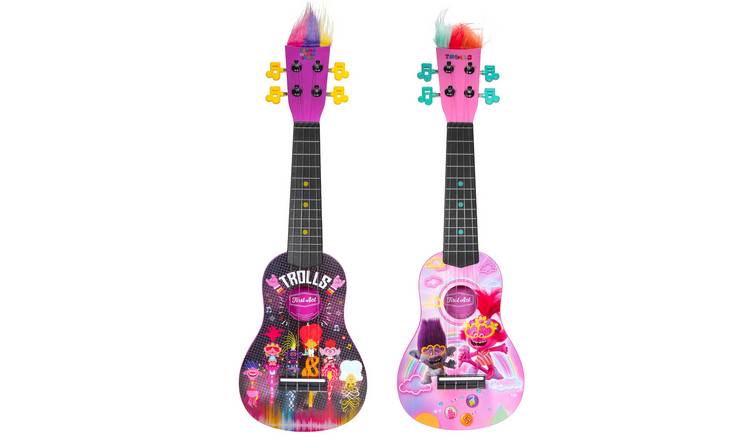 How flipping cute are these Trolls World Tour ukeleles from Argos? I mean, probably not so cute for grown-ups to listen to! But I bet kids would love them!
7. Trolls World Tour Puzzles
There are loads of options for Trolls World Tour puzzles – all different sizes and number of pieces. We've ordered the twigs a 100-piece one for their birthday.
* affiliate links
8. Princess Poppy Play-Doh
This Princess Poppy rainbow hair Play-Doh set looks super cute 🙂
* affiliate link
9. Activity Books
Activity books are always a winner! For the twigs' birthday, we ordered various cheapy activity bits and bobs from The Works. They have loads in stock at the moment – magic water painting books, stickers, colouring etc. Definitely worth a look! You can get a whole bundle of activity bits for £20 at the moment 🙂
10. Trolls World Tour Board Games
There are various Trolls World Tour board games available, including a mini Snap card game, a Top Trumps game and a classic dice game.
* affiliate links
I really hope you enjoyed my round-up of the best Trolls World Tour gift ideas for kids! I hope it gives you a bit of inspiration 🙂
Thanks for reading! Til next time,
Hannah xx
PS If you enjoyed this post, please share it using the buttons at the bottom 🙂 Or Pin it for later:
Looking for more gift ideas for kids? Check out my post on gift ideas for preschoolers 🙂